Sunday, October 03, 2004
i miss you my starlite...
aku nggak ngerti hun,
i just can't stop missing you lately though we met almost everyday. i can't stop thinking of you in everything i do.
i miss you and i hate it when you're not around.
would you mind telling me how to stop this feeling?
i don't want to disturb you all the time by sms or phone just to hear your voice.
i miss you, we just met last night and i miss you already...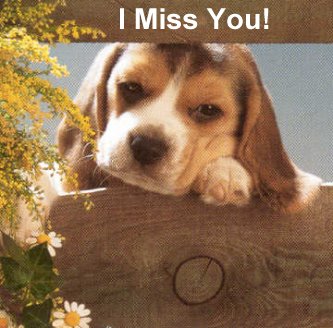 posted by -nia- @--}--- Sunday, October 03, 2004 l
:: Profile ::


This is my blogchalk:
Indonesia, East Java, Sidoarjo, Indonesian, English, Nia, Female, 21-25, reading, movies, make friends, writing, music, party.
:: Fellows ::


Blogroll Me!
:: Shout box ::
:: 10 most recent entries ::
congratulation graduate!!
"2 tahun yang lalu"
Irvine
jangan beri aku narkoba - alberthiene endah
tragedi lunch di foodcourt
alhamdulillah
cinta yang agung
i miss my best friends
cerpen
Because of You If ever you wondered if you touc...

:: Archieves ::


November 2003
December 2003
January 2004
February 2004
March 2004
April 2004
May 2004
June 2004
July 2004
September 2004
October 2004
November 2004
December 2004
January 2005
February 2005
March 2005
April 2005
May 2005

:: Guest ::
:: Credits ::
blogskins
bloglet
okcounter
doneeh


Design